via Sindeo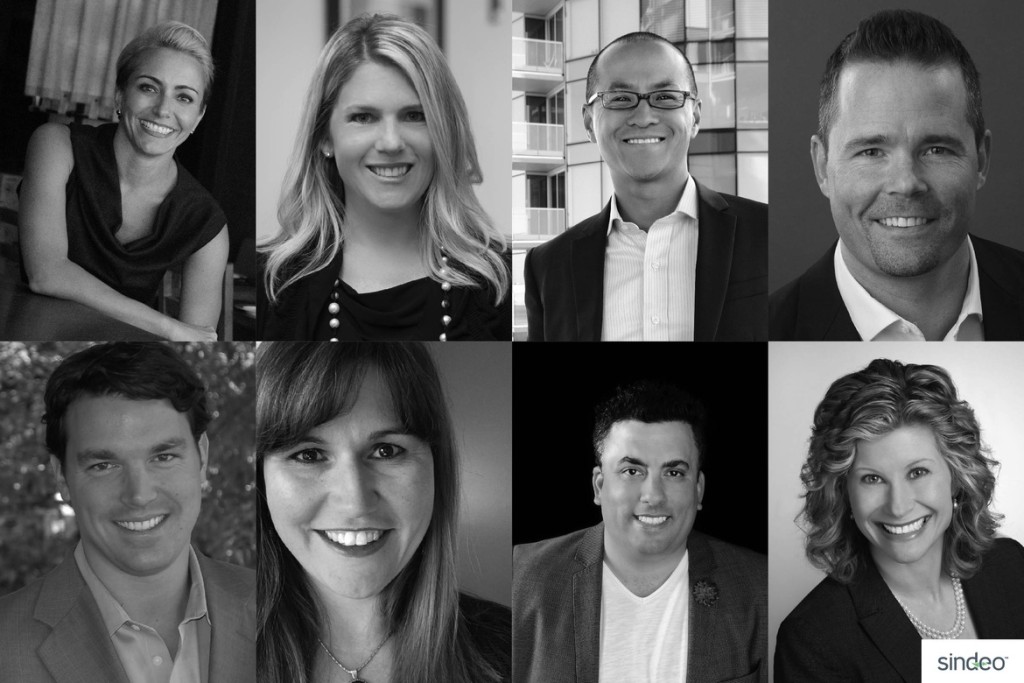 We are pleased to announce the formation of our first‑ever Agent Advisory Council, consisting of a distinguished group of agents from across the country who have a proven record in company leadership and top‑level business innovation. The council, which will meet periodically throughout the year, is intended to provide strategic guidance and industry insights to Sindeo. Members will have the opportunity to impact the transformation of the mortgage industry as Sindeo builds a solution that leverages technology and high‑touch service to provide consumers and their real estate agents with an efficient and transparent end‑to‑end home financing process.
"We are thrilled to have such an influential team of real estate professionals interested in sharing their industry insight and vision with Sindeo," said Chief Industry Officer Ginger Wilcox. "With their expertise, we will be able to build a mortgage product that is truly purpose‑built for the real estate agent and their needs – ultimately helping them deliver a better experience to their clients."
The inaugural Agent Advisory Council members include:
Vanessa Bergmark, Red Oak Realty
Vanessa is General Manager/Partner of Red Oak Realty, overseeing 90 sales agents in two offices located in Berkeley and Oakland, California. By rebranding and reshaping the entire organization, Bergmark is widely admired as a turn‑around expert for growing Red Oak Realty from a small agency ranked 12th in market share to 3rd in just 4 years. She has spoken about branding, culture and agent retention at several conferences including Inman Connect, NAR, CAR and Who's Who in Luxury. She is part of CAR's Strategic Planning and Finance committee and is an active participant in organized real estate at the state and local levels. In 2013 she was named as one of Inman's 100 Most Influential Leaders in Real Estate.
Jennifer Branchini, Better Homes & Gardens Tri‑Valley Realty
Jennifer is a recognized industry leader, having served as President of the Bay East Association of REALTORS® Board of Directors in 2014, as well as being an active member of the California Association of REALTORS® Board of Directors and the National Association of REALTORS®. Branchini is a founding member of the Bay East Association of REALTORS® Young Professionals Network and was the 2012 Chair of the California Association of REALTORS® Young Professionals Network. She was part of the Social Media Advisory Board and the Local Association Idea Exchange for the National Association of REALTORS®, and was named 2010 REALTOR® of the Year by Bay East Association of REALTORS®.
Mark Choey, Climb Real Estate
Mark is co‑founder, partner and CTO of Climb Real Estate, now one of the top brokerages in San Francisco. Mark helps manage the strategic vision and direction of CLIMB and is leading CLIMB | LABS – Climb's innovation arm. He was SFAR MLS & Technology Committee's Co‑Chair in 2012 and 2013 where he still actively contributes to SFAR's MLS long‑term strategic direction. Mark is one of the City's top‑selling real estate agents and is ranked in the top 5 agents in SF condo sales volume from 2011‑2014. Mark is also the founder of SF New Developments, where he provides resources for his clients to navigate the booming San Francisco residential new development landscape.
Sam DeBord, Seattle Homes Group with Coldwell Banker Danforth
Sam is managing broker for Seattle Homes Group with Coldwell Banker Danforth, the top‑producing full‑service real estate office in Seattle, and the 2016 President‑Elect of Seattle King County REALTORS®. With a background in I.T. and management consulting, DeBord has earned a reputation for being on the cutting edge of issues ranging from technology to legislative policy. He was named one of T3 Swanepoel Power 200's top 20 Social Influencers and has served as a director and spokesperson for local, state, and national REALTOR® organizations on the topics of industry technology, communications, and government affairs.
Michael DiMella, Charlesgate Realty Group
Michael is Managing Partner of Charlesgate Realty Group in Boston, MA. With a strong background in Economics and years of industry experience, DiMella's ability to spot trends in the housing market and provide investment and development recommendations has made him a frequently cited expert in local and national news, such as The Boston Globe and The Wall Street Journal. He is a Principal of IGNITION Residential, an interdisciplinary multifamily development advisory and marketing firm, and Charlesgate Property Management, a full service apartment and condo association management firm. DiMella was recently awardedRealtor Magazine's 30 Under 30 Realtors in America.
Heather Elias, Century 21 Redwood Realty
Heather is the influential blogger behind LoCoMusings.com, as well as a social media pro and brand‑building expert. An industry innovator and leader, she was Century 21 Redwood's first Training and Technology Director and served two years as NAR's Director of Social Business Practice. A sought after speaker, Elias has spoken at conferences nationally, including Inman Connect, NAR's Annual Conference, BlogWorld, and RETSO. Elias is currently Vice President of Industry Engagement at CENTURY 21 Redwood Realty, spearheading the firm's growth efforts.
Raj Qsar, The Boutique Real Estate Group
Raj is Owner & Founder of The Boutique Real Estate Group and their story goes like this. Beautiful design evokes emotion. Emotion stirs the soul and creates a connection between client, agent and the real estate experience. The Boutique has invested in bringing all aspects of the real estate experience in‑house, providing them with complete control of the design, marketing & technology of luxury real estate while giving them the look of a true marketing agency. This approach has earned Qsar awards worldwide, including Top 33 People Changing The Real Estate Industry, Most Innovative Real Estate Agent in 2014 by Inman, and Top 100 Most Influential Real Estate Leaders for 2013. The Boutique was selected as The 2014 Next Generation Real Estate Brokerage. Raj has taken the stage at some of the most prestigious real estate conferences across the country and continues to make his mark in the industry.
Gretchen Rosenberg, Kentwood Real Estate, Cherry Creek
Named Denver's "Realtor of the Year" by the Denver Board of REALTORS in 2009 and "Broker Manager of the Year" in 2012, Gretchen has 20 years' experience in residential real estate. She was among the founding agents and is now the Employing Broker at Kentwood Real Estate's Cherry Creek office, which is now the most successful privately owned real estate firm in Denver and a NAR Top 100 brokerage in the U.S. Gretchen has served on the Denver Board of Realtors Grievance Committee, International Committee, Roundtable Committee and on the Board of Directors. Gretchen was also appointed by the 2015 NAR President as Liaison to India and is heavily involved in multiple philanthropic causes close to her heart.