Stunning Pinnacle House Hits the Market — in Yorba Linda
via Fox News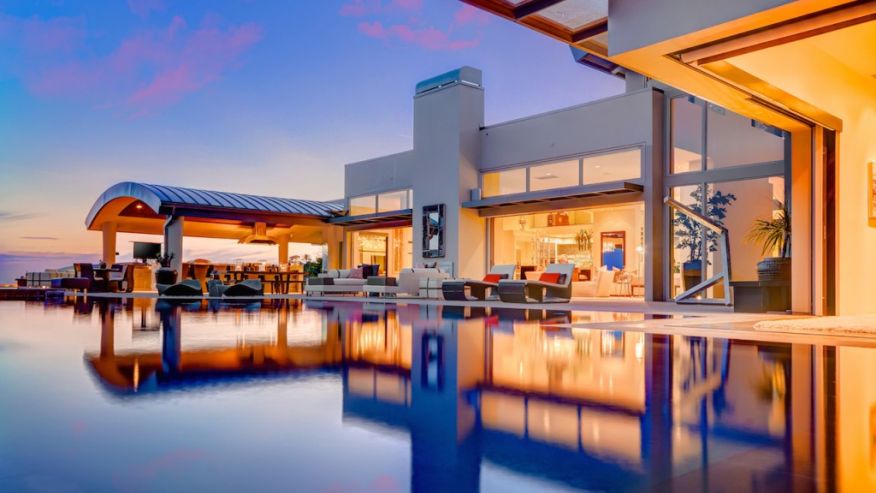 When you think of a $10 million home in Southern California, the first neighborhoods that probably come to mind are Beverly Hills, Bel Air, Brentwood, and perhaps the Hollywood Hills or Malibu.
The town of Yorba Linda, home of the Richard Nixon Presidential Library and Museum, located in northern Orange County, probably didn't even make your top 20 list of elite enclaves, did it? That's why the Pinnacle House comes as such an intriguing surprise.
What could be so special about a house that isn't on the beach and doesn't have a prominent ZIP code? Plenty, you'll realize, just as soon as you find out who built it. Carlito Jocson is the corporate executive chef and vice president of Yard House restaurants, a popular chain with locations throughout the U.S. and endless taps of beer.
If you've ever been to one, you know the chain is tremendously successful, so the veep would likely spare no expense in creating a dream house anywhere he wants. And that's exactly what happened.
Jocson hired David Streshinsky of DKY Architects to design a modern dwelling with Hawaiian influences, mixing the elements of steel, clay, fire, and water. In fact, as some of the best California homes do.
The house comes with a feng shui appraisal from feng shui expert Jessie Kim, which states, "The Pinnacle House is a great example of incorporation of Feng Shui elements.The strongest Feng Shui elements of this home — water, fire and wood — will provide its occupants with Power, Fame and Great Reputation. … When balance is achieved with these elements, a feeling of harmony and uplifting energy will be felt by anyone walking through the home."
For all the good karma built into the house, size still matters. The airy home has five bedrooms and seven bathrooms in 8,320 square feet of space. It is strategically situated on a 3.1-acre lot on one of the highest peaks in Orange County. "There's ample room for a helipad," remarks Raj Qsar, who is the estate's listing agent along with his partner Christina Boladian.
But you actually don't need a helicopter to get around, because the property is quite conveniently located. Set in the Hidden Hills neighborhood of Yorba Linda (not to be confused with the Hidden Hills area of Calabasas, which is cluttered with Kardashians and pop stars), the Pinnacle House is only 10 minutes from Angel Stadium, Disneyland, and the Honda Center. It's about 40 minutes from Los Angeles and 25 minutes from the beach.
Of course the executive chef of a prominent restaurant chain is going to build extraordinary cooking and dining facilities in his home, and this one has several: a huge indoor show kitchen with professional-grade appliances, an adjacent 1,200-bottle wine room, a full-service outdoor kitchen with a wood-fire pizza oven and a wok range, and a 12-person dining room with spectacular sunset views of the hills.
Adding to the feng shui philosophy of the home, the water features like the zero-edge, floor-level pool and the waterfall in the entryway flow from the outdoors in.
"We were able to install these beautiful sliding doors that open right up and disappear, and allow the bedroom to be indoor-outdoor. The thought process was, I wanted to wake up in the morning and jump in [the] pool straight from the bed," Jocson says with a laugh.
"This home is very serene and has the feeling like you're getting away," he continues. "You can think better, you can think clearer, it's just a wonderful place."
Qsar believes that a buyer who values that type of lifestyle will find the property priceless, and that $10 million is a steal.