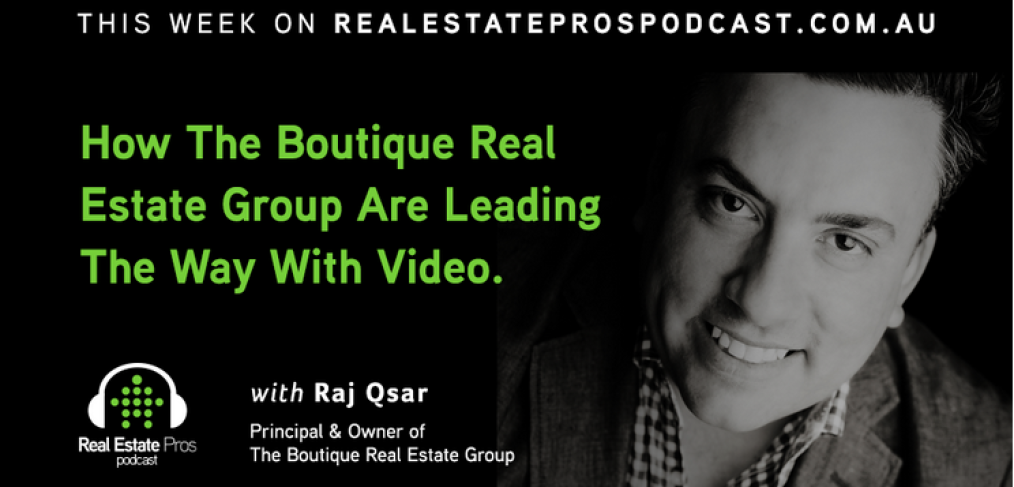 Raj Qsar: How The Boutique Real Estate Group Are Leading The Way With Video
via Josh Cobb of Stepps Raj Qsar, principal and owner of The Boutique Real Estate Group, joins Real Estate Pros to discuss How The Boutique Real Estate Group Are Leading The Way With Video. Raj shares his journey in real estate and what it's like selling high-end luxury homes in some of the world's most stunning locations.
Show Notes
From amazing photography, video and film production, 360-degree HD v-tours, interior design and staging, custom graphics and design, complete social media engagement and search engine optimisation, The Boutique Real Estate Group do marketing the way it should be done. With more than 18 years of sales, marketing and leadership experience, Raj Qsar has achieved this outstanding level of production as a result of his unsurpassed commitment for providing superior representation to his clients. Most recently, Raj was nominated for an Innovator Award for Most Innovative Real Estate Agent in 2014 by Inman News. He was also named Top 100 Most Influential Real Estate Leaders For 2013 By Inman News, and The Boutique Real Estate Group was recently selected as The 2014 Next Generation Real Estate Brokerage by Better Homes & Garden Real Estate & 1000 Watt Consulting. Their 2013 video called #goodbyehello was named Top 20 Real Estate Videos in the USA. As a national and international speaker, Raj travels the world educating real estate professionals on the value of technology and social media. As a highly sought after speaker, Raj has taken the stage at some of the most prestigious real estate conferences across the country and he continues to make his mark in today's ever-changing real estate market. Join us in this episode of Real Estate Pros as Raj takes us on a journey inside The Boutique Real Estate Group and their commitment to best-in-class marketing and sales.
Fast Five
Who has been an inspiration to you throughout your career?
"Jesus Christ, my personal lord and saviour."
What are your favourite things in the world to do when you're not at the office?
"That's an easy one. I'm a dad with three beautiful kids and a wife, so getting off the grid and spending time with my family without my phone in my hand."
What is your favourite business book?
"
The Four Obsessions of an Extraordinary Executive
– By Patrick Lencioni."
What is your favourite technology resource you use daily to help you run a better business?
"I literally couldn't live without my iPhone."
What is 'one thing' that prevents people in real estate from achieving success and what would your advice be to overcome it?
"Don't try to do everything yourself. Find people who are strong where you're weak, team up with partnered professionals and just focus on being consistent at your one strategy."
---
Download This Episode:
Download Audio | http://stepps.podbean.com iTunes | https://itunes.apple.com/au/ Stitcher | http://www.stitcher.com/
Help Us Spread the Word!
If you enjoyed this episode of the Real Estate Pros podcast, please head over to iTunes, leave us a review and subscribe. If you have any feedback for us on how we can improve we would love to hear from you because this show is all about helping you, the real estate pro. Please email us at info@stepps.com.au.