Better to be a seller than buyer: O.C. home prices hit 7 1/2-year high, nearing 2007 housing bubble
via OC Register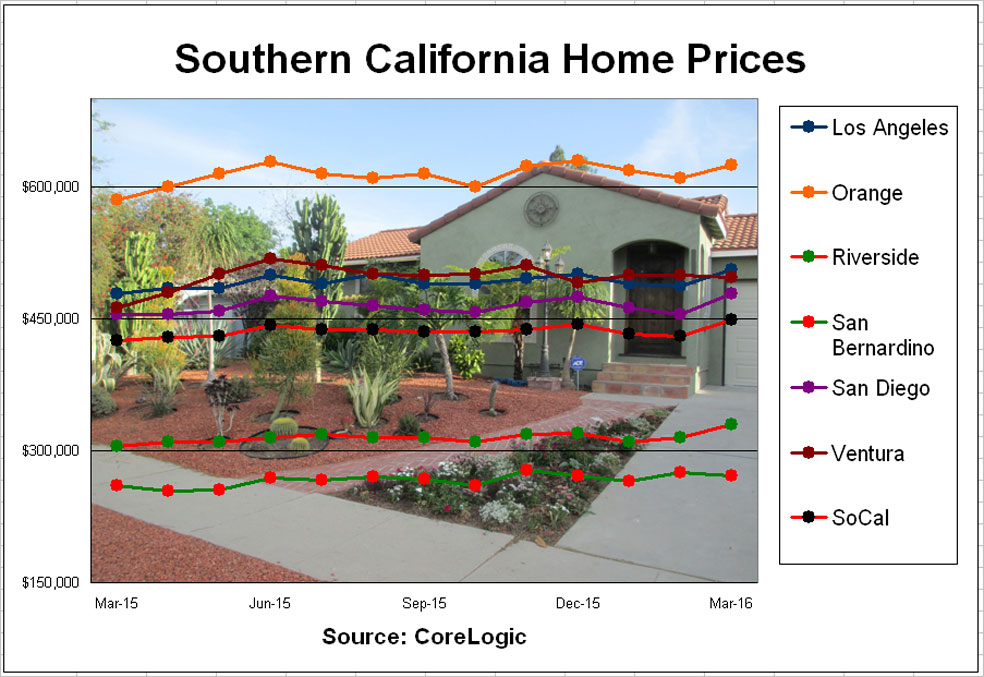 Orange County's spring homebuying season rocketed into high gear last month, with prices and sales already outdistancing last year's buying frenzy, figures released Monday show.
The median price of an Orange County home – or the sale price at the midpoint of all transactions – was $625,000 in the year ending in March. That's up 6.8 percent and within $20,000 of the all-time high reached at the peak of the housing bubble in June 2007, Irvine-based data firm CoreLogic reported.
If prices continue going up at a rate of 4 percent or more, the median will surpass the bubble's high-water mark by June.
Sales, meanwhile, ticked up to the highest level in a decade for the month of March.
CoreLogic reported 3,181 transactions closed last month. While that's up just a 0.8 percent from a year ago, it's still the highest March tally since 2006.
"The market is definitely continuing to improve," said Huntington Beach Re/Max agent Brian Kamenca. "It's not cooling off."
Home prices have risen steadily for four straight years in Orange County and in Southern California as a whole, with the Orange County median climbing $225,000 since March 2012.
First-quarter inventory was at the lowest level in three years, increasing competition among buyers, according to Steve Thomas' ReportsOnHousing.com.
The bottom line: It's more fun right now to be a seller than a buyer.
Erin and Owen Campbell have seen the market from both sides, as both sellers and buyers.
The family of eight decided to sell the cramped century-old Craftsman they owned in Orange and move into roomier digs closer to their children's school in Costa Mesa. Being a seller was far easier than being a buyer, Erin Campbell said.
The Campbells contacted their agent around Martin Luther King Day to say they were "thinking of selling." A week later, "we already had a full-priced offer."
Buying was a bit trickier because there were so few homes for sale in the neighborhood where the family was looking.
"The one that we ended up buying, the listing price sounded reasonable, but we didn't have anything to compare it to," Erin Campbell said. Both sales closed in March. And selling with just one showing and no open houses made it extremely easy.
"It's hard to have a tiny house with six kids with a lot of showings," Erin Campbell said.
Some homesellers may be attempting to exploit their advantage by overreaching in setting their asking prices, said Kamenca, the Huntington Beach broker-associate at Re/Max.
He noted that out of more than 900 recently listed homes, 500 had lowered their prices.
"That tells me a lot of sellers are fishing," Kamenca said. But, he added, "homes that are priced right are moving quickly."
CoreLogic analyst Andrew LePage noted that the market still remains somewhat constrained.
"Many would-be buyers continue to face hurdles such as waning affordability, moderately tight credit and a relatively tight inventory of homes for sale," LePage said in a prepared statement.
But, he added, "the new-home market has registered a stronger heartbeat." New-home sales jumped 26.5 percent in Orange County year-over-year last month and increased 25 percent during the first three months of the year.
Market watcher Steve Thomas reported the number of homes for sale finally reached 2015 levels by the first week of April – too late to affect March numbers. But demand rose accordingly.
The time needed to sell all Orange County listings fell to less than two months in late March, Thomas reported. And for homes priced at $750,000 and below, the listings could all be sold in 37 days at the current buying pace.
"The hot market came back with a vengeance," Thomas wrote. "Below $750,000 is red hot. … Home values are climbing and it's a deep seller's market."
Larry Roberts, an author and real estate blogger-turned-broker, wrote Monday that low mortgage rates and an improving economy are boosting both home sales and prices. Freddie Mac reported Thursday that the average rate for a 30-year fixed mortgage fell to a three-year low.
"As long as mortgage rates remain low, I expect house prices to continue rising and sales will be strong," Roberts wrote.
In Southern California as a whole, the median home price rose 5.6 percent to $449,000, the region's highest median in 8½ years, CoreLogic figures show. Home prices in the six-county area are $56,000 below the all-time high of $505,000.
CoreLogic reported 20,370 homes sold in the region, up 1.9 percent from 2015 and the most for a March since 2013.
Prices were up in all six counties, with Riverside posting the region's biggest price surge: up 8.2 percent to $330,000.
Sales rose everywhere but Los Angeles County, which had a 1.4 percent drop from 2015 levels. The biggest sales gain occurred in San Bernardino County, where transactions jumped 7.7 percent.
Buyer Carie Murphy said many of the properties she was looking at had multiple offers already, and she wanted to steer clear of a bidding war.
She ended up buying a two-story townhome in Anaheim, with a two-car garage in a complex with a pool, spa and tennis courts.
"It was tough to be a buyer, absolutely," said Murphy, 56, who relocated for work from Joplin, Mo. "The options available were in high demand."