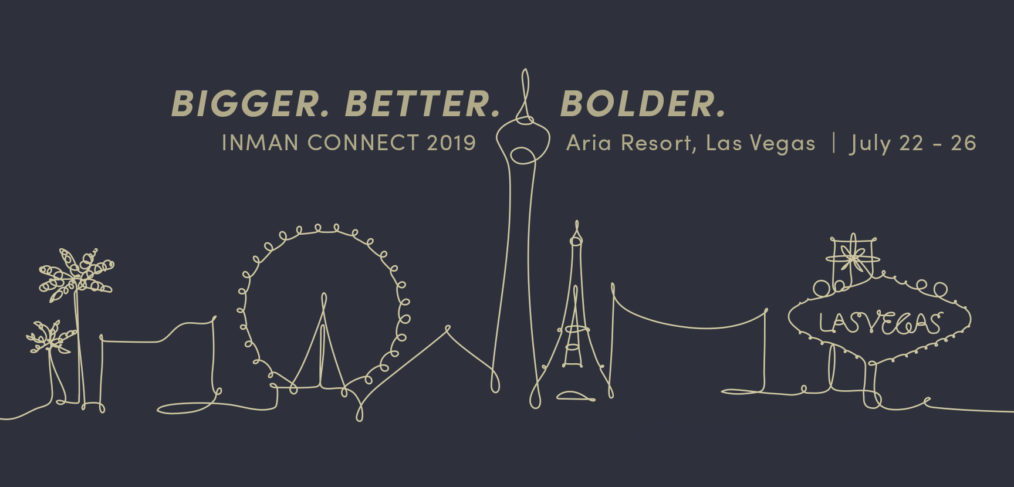 Inman Connect Las Vegas.
Bigger. Better. Bolder.
Author: Raj Qsar, The Boutique Real Estate Group
1. Make a list of the people you want to meet "in real life." Connect is an amazing time to solidify some of those online relationships and connect with people who you admire and respect and make that true emotional connection. Some of the connections I have made at Connect have become lifelong friends of mine. They are the ones I call when I need advice, encouragement or just a plain old kick in the tush! Remember this quote from Brene Brown "What we know matters, but who we know matters more." Some of my favorite folks include who can show you the ropes at Inman include: Vanessa Jones Bergmark, Sara Sutachan, Seth Price, Andrew Flachner, Alyssa Hellman, Lynn Johnson, Rob Hahn, Laura Brady, Chris Smith, Jimmy Mackin, Leigh Brown, Bill Lublin, Celeste Starchild, Katie Lance, Debra Trappen, Valerie Garcia, Joe Schutt, Jay Thompson, Heather Elias, Laura Monroe, Teri Conrad, Audie Chamberlain, Joe Rand, Wendy Forsythe, Sam DeBord, Seth O'Bryne, Jason Cassity, Caroline Pinal, Troy Palmquist & Veronica Figueroa, and so many others….
2. Attend & be present in as many sessions as you can possibly attend! DO NOT MISS ANYTHING. Specifically, look for the sessions that pull you out of your comfort zone and will challenge you on a personal & professional level. See the full schedule here and meet the speakers here. This year catch Molly Bloom on the main stage sharing the story of "the most exclusive high stakes underground poker game in the world." 😮
Bonus: Please do not miss CAR's #womanup on Tuesday at 2pm with Sara Sutachan, Leslie Appleton Young & Debra Trappen. See the full lineup here.
3. Have you joined the Inman Coast to Coast Facebook Group? If not join here for all the latest posts, connections and updates. Hashtag is #ICLV
4. The Party after the Party! Do I need to say anymore? This is VEGAS! Text "PARTY" to 415-818-1555 (thanks Jessie) to find out about all the parties, after-parties and events at #ICLV. We all know the real fun starts after midnight! So just ask around, jump in an Uber (download app here) or Lyft (download app here) and find out where the action is. Check your email for last-minute invites to all the happening VIP parties and events. If you still can not find the party make sure to DM Joe Schutt or Laurie Weston Davis (they will steer you in the right direction, I promise). If you are looking for the top-secret karaoke party then there is only one name you should know 👉🏼 Notorious.
5. Lobbycon! You have heard all the rumors and it is true! You will find everyone in The Aria's Lobby Bar (open until 2am) and this is the spot where you will meet the CEO's, Founders, Presidents, movers & shakers all just "hanging out." Bring your selfie stick & business cards and make sure to say hi. BTW, when is the next time you will be in the same hotel with folks like Brad Inman, Sherry Chris, Sharran Shrivatsaa, Rich Barton, Glenn Kellman, Robert Refkin, Glenn Sanford, Ryan Gorman, Eric Wu, James Dwiggins, Joel Singer, Leslie Appleton Young & Josh Team.
6. Get out of the hotel! VEAGS is an amazing city with sights, sounds, history and killer food! Check out this list of The Best Restaurants in Las Vegas via Thrillist. Then catch a show! Or check out some of the worlds best clubs or pool parties. Jump in a helicopter over the grand canyon or do the superman zipline over vegas. Also, everyone loves a good speakeasy and they are all the rage now in Vegas. Here is a great list to tackle.
7. Stay fit and drink a ton of water. It will be over 100 degrees the whole week we are in Vegas and you will be eating, drinking & sitting in a lot of sessions. Please make sure to stay mentally & physically fit at the hotel gym, or find the local SoulCycle, OrangeTheory, CrossFit Gym, TopGolf or 24 hour fitness. If you are still alive midweek there is a group hitting SoulCycle at The Wynn on Wednesday morning at 7am.
8. Ambassadors. These are the ones who will lead us through the first ICLV. Joe Schutt & Laure Weston Davis have been "in charge" of this program for years now and if you have a question about anything ICLV these are the folks to ask. Have you met them? If not connect with them here.
🔥If you made it this far and are headed to #ICLV please find me in one of the sessions, lobbycon or at one of the after-parties. I would love to connect with you and hear your story.
Raj Qsar, The Boutique Real Estate Group, www.TheBoutiqueRE.com