Anaheim, CA: 10 Time-Lapse Images of the City's Newest and Biggest Additions
via RENTcafé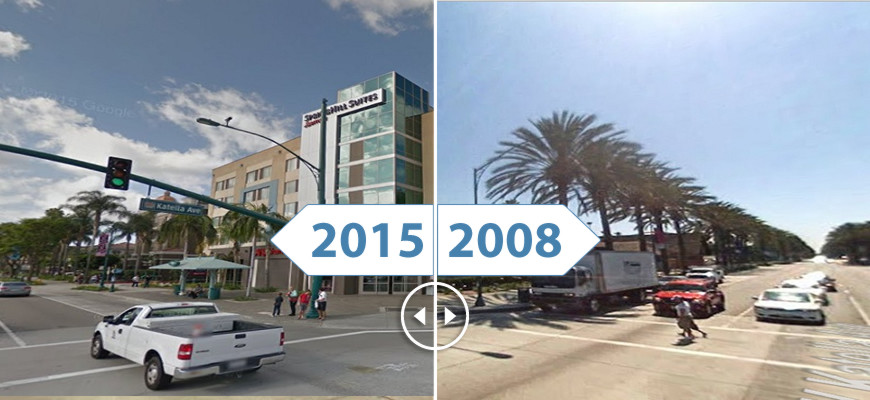 Orange County's fairytale city of Anaheim has been growing since 1890. It remains a hugely popular vacation destination, business HQ, and playground for visionaries. From Victorian mansions, to Colony Historic District, modern homes, and Sleeping Beauty's castle in the Disneyland Anaheim Resort area, with the backdrop of the snowcapped mountains of the Santa Ana Canyon, there is plenty to feast the eyes on here.
In 2008 the city announced plans to double the number of housing and commercial business spaces in the Platinum Triangle area around Angel Stadium, as well as to incorporate a new rapid transit system. So how has the city's face changed since then?
With the help of Google Street View, we complied a collection of interactive time-lapse images showing how Anaheim has been improving its appeal in recent years. Simply hold and drag the arrow left and right to see the old vs new:
1. Walnut Village Retirement Community – West Anaheim
Year Built: 2009
Walnut Village is operated by nonprofit Front Porch, and has become one of the top rated centers of its type since 2010. The community provides assisted living built around a shop lined village square, was awarded Continuing Care Retirement Community of the Year by 50+ Builders Magazine, Gold Award for Best Small CRCC by the NAHB, and Beautification of Anaheim Award.
2. SpringHill Suites Anaheim Maingate – Anaheim Resort
Year Built: 2014
SpringHill Suites' new hotel in Anaheim puts guests in close proximity to Disneyland, while catering to business travelers with interiors featuring desks and light spaces, as well as an on-site snack shop and small fitness center. Conveniently located near the Anaheim Convention Center, the hotel features its own modern, boutique meeting spaces.
3. Courtyard Anaheim Theme Park Entrance – Anaheim Resort
Year Built: 2015
The new 6-story Courtyard Marriot in Anaheim sits close to the theme park entrance, offers vibrant décor, a family-friendly atmosphere, and even sports its own waterpark on-site, complete with water slides. Some rooms offer views of the Disney firework shows at night. The design provides a unique blend of mission and modern aesthetics.
4. Holiday Inn Express & Suites Anaheim Resort Area – Anaheim Resort
Year Built: 2016
The brand new Holiday Inn Express & Suits Anaheim Resort Hotel offers 5 stories of accommodations, an onsite pool and splash area, and is just moments from all the excitement of Disney. Found right off the expressway and steps to Downtown Disney this hotel is well situated for families looking to get in every moment of action they can.
5. SpringHill Suites – Anaheim Resort
Year Built: 2014
The second new SpringHill Suites hotel on this list – this building puts visitors right in the heart of it, with easy walking to the resort and Anaheim convention center, as well as downtown amenities. Modern design, kid-friendly interiors, and an on-site CVS Pharmacy and coffee and tea shop make this a great convenient choice for tourists.
6. Hyatt Place at Anaheim Resort and Convention Center
Year Built: 2014
Another new hotel just down the street, Hyatt offers guests walking access to resorts, convention center events, the farmer's market, garden walk, and art walks. Standing out from the others on the list, Hyatt Place boasts architectural elements that reflect the interior's more business-like minimalist chic design.
7. Kaiser Permanente Orange County Anaheim Medical Center – Canyon District
Year Built: 2012
One of the largest employers in Anaheim has opened an expansive new medical facility encompassing 434,000 square feet. The building replaces the old Lakeview Hospital built back in 1979. The new campus is built around a 3-acre 'healing garden', hosts 262 private rooms, emergency treatment bays, labor and delivery rooms, and a helipad.
8. The Crossing Apartments – Canyon District
Year Built: 2010
In contrast to the other new buildings on this list The Crossing rental apartments in Anaheim offer a bolder exterior with modern lines and a dash of color. Taking sustainability seriously from start to finish, the LEED Gold Certified apartment building boasts a 94% landfill diversion and 75% recycling rate during demolition and construction.
9. Anaheim Regional Transportation Intermodal Center (ARTIC) – Platinum Garden
Year Built: 2014
The spaceship-looking Anaheim Regional Transport Intermodal Center (ARTIC) is a bold addition to the architectural landscape of this area. This transport hub's diamond quilt-shaped exterior was created to optimize sustainability. Solar provides 20% of the energy used by the building, which lights up in bright colors at night. Winner of the 2015 Public Works Project of the Year Award, and LEED Platinum Certified, it is also home to a Bitcoin ATM.
10. Ajax La Palma Business Center – Canyon District